The Northwest is beginning to stir, however. The Crescent Manufacturing Company changed the needle on the victrola when it demonstrated that Mapleine was desired by national retailers as soon as they learned of it through the national advertising campaigns started twelve years ago. In 1910 Mapleine advertisements appeared in Good Housekeeping, The Designer, Women's Home Companion, Ladies' Home Journal, and Ladies World. Carnation Milk used a loud toned needle, and became a national product about the same time.
— "Advertising Matters," The Washington Newspaper, May 1923.
In Part 1 of our series about Mapleine, I gave you some of the background of the product and the Crescent Manufacturing Company's battle with the US government over labeling. After they made a deal with the Feds that allowed them to keep using the name Mapleine, there was no holding them back. As the above quote indicates, they started advertising nationally, and Mapleine took off.
The first part of the 20th century saw two World Wars and a Great Depression. A product that allowed homemakers, campers, and all other maple fans to make syrup that tasted good but was much cheaper than true maple was perfect for the times, and Crescent made darned sure everyone knew it.
In the early 1910s Mapleine was promoted as "The Flavor De Luxe." Ads, then and later, often featured recipes. Here's a 1912 ad from Literary Digest with a simple recipe for cake filling.
Mapleine Cake Filling

2 cups

granulated sugar

3/4 cup

milk

walnut-sized piece

butter

1 teaspoon

Mapleine

Mix sugar, milk and butter together

Boil for five minutes

Take from fire and stir until thick.

Then add the Mapleine, stirring it slowly.
A 1913 ad—unfortunately, I do not have the source of this one—suggested that mothers should make lots of candy. Why? "Children crave sweets because their bodies need it." Mapleine Fudge is suggested to make sure the kiddies get their daily dose of sugar.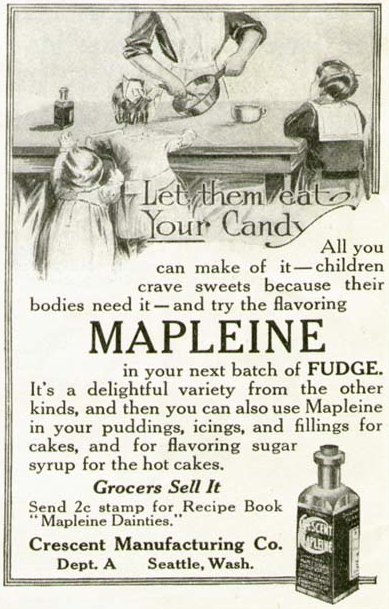 The ad also mentioned an offer to send customers a copy of the Mapleine Recipe Book, Mapleine Dainties. Here is an early, but undated, copy of the book:
(The stamp on the top of the cover reads "Beall & Mc Gowan Co.," a well-known grocery company in Fergus Falls, Minnesota.)
The sixteen-page booklet is much smaller than it appears in this photo. It's about 3″x5″, with each page containing about two or three recipes. Â There is a nice assortment of recipes, including syrup, icing, nut bread, ice cream, cake, jellies, "Sweet Potatoes Southern Style" and "Baked Beans au Mapleine." There is even a recipe, "Uncooked Candy," that consists of egg, sugar, nuts, Mapleine, and… cold mashed potatoes.
Here is the Mapleine Fudge recipe the ad mentioned:
Mapleine Fudge

2 cups

granulated sugar

1 cup

milk

1 piece (size of an egg)

butter

1 heaping teaspoonful

Mapleine

Cook about fifteen minutes.

Take off and beat hard until it grains, then pour in buttered plate.

Chopped nuts, figs, dates or cocoanut spread on the plate before pouring makes tasty variations.
("But Wendi," I hear you saying, "you aren't supposed to 'beat fudge until it grains.' It's supposed to be smooth and non-grainy." Ah, but that is another post I have planned for later. I'll just say, 't'wasn't always so.)
The Mapleine Dainties booklets continued to be distributed for at least a couple of decades.