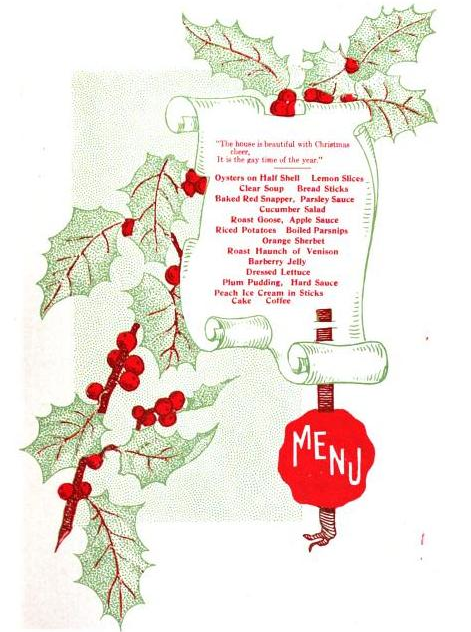 The above recipe is from Modern Housekeeping, December 1905. You may find it hard to read. Here's what it includes:
Oysters on Half Shell Lemon Slices
Clear Soup Bread Sticks
Baked Red Snapper, Parsley Sauce
Cucumber Salad
Roast Goose, Apple Sauce
Riced Potatoes Boiled Parsnips
Orange Sherbet
Roast Haunch of Venison
Barberry Jelly
Dressed Lettuce
Plum Pudding, Hard Sauce
Peach Ice Cream in Sticks
Cake Coffee
In December 1901, American Kitchen magazine provided four separate menus for Christmas dinner. Raw oysters, Lobster Newburg and Broiled Quail are included alongside the roast turkey we are more familiar with at Christmas today. Here they are, formatted as they were in the magazine:
GRAPE FRUIT.
CHICKEN CONSOMME. SALTED ALMONDS.
LOBSTER NEWBURG.
BROILED QUAIL. MUSHROOM SAUCE.
PINEAPPLE SHERBET.
ROAST GOOSE. CHESTNUT STUFFING.
APPLE SALAD. SWEET POTATO CROQUETTES.
PLUM PUDDING.
MARLBORO PIE. NUTS. RAISINS.
COFFEE.
OYSTER SOUP.
CELERY. OLIVES. BROWNED WAFERS.
ONION STUFFING. ROAST GOOSE. APPLE SAUCE.
GLAZED SWEET POTATOES. TURNIPS.
LEMON ICE.
CHICKEN CROQUETTES.
APPLE AND CELERY SALAD.
PLUM PUDDING. MINCE PIE.
LEMON JELLY. LEMON QUEEN CAKES.
NUTS. DATES. COFFEE.
APPLES. ORANGES.
RAW OYSTERS.
JULIENNE SOUP. CELERY.
ROAST PIG. STUFFED POTATOES. ONIONS.
APPLE SAUCE.
BOILED TURKEY. POTATO CROQUETTES.
MOLDED SPINACH.
WAFERS. LETTUCE SALAD. CHEESE.
NEAPOLITAN CREAM. CAKE.
COFFEE.
RAW OYSTERS.
CONSOMME. ROLLS. CELERY. OLIVES.
ROAST TURKEY. MASHED POTATOES.
SQUASH. ONIONS. BROWNED SWEET POTATOES.
PINEAPPLE SHERBET.
TUTTI FRUTTI. CRANBERRY JELLY.
MINCE PIE. PLUM PUDDING.
GRAPES. FIGS. DATES.
NUTS. CANDY.
ORANGES. APPLES.
COFFEE.
Lastly, vegetarianism is not new. Meatless Cookery by Maria McIlvaine Gillmore was published in 1914, and includes several holiday menus, such as:
CHRISTMAS MENU
Salpicon of Fruit
Tomato Bisque Rice Biscuit
Radishes Pine Nuts Ripe Olives
Curried Vegetables Sauce Diced Cucumbers
Potatoes à la Maître d Hôtel
Spanish Onions Cranberry Sauce
Apple and Celery Salad Wafers
Caramel Ice Cream Assorted Fruit Creamed Cheese on Wafers
Perhaps some of these menus will inspire you to add old-style Christmas food to your holiday meals this year.