Yesterday in How Sally Did It (in 1920), I commented on the oddness of this paragraph:
"Another thing Sally hardly ever uses is my chopping bowl. She had Max plane off a square board that she keeps lying on the kitchen table. When a vegetable is to be sliced or chopped she simply holds it on the board and cuts it down with a heavy, sharp knife."
Surely cutting vegetables on a cutting board — such a basic kitchen operation — couldn't have been unusual back then, could it?
I had never actually heard of the term "chopping bowl" before. Here's one — a wide, shallow wooden bowl with a mezzaluna blade chopper. You can buy these today,
but they aren't standard equipment in the kitchen as they once were. Once you could buy the chopping board mezzaluna knife at the dime store, but it's probably not quite as universally accessible these days. (Nor are "dime stores.")
Even more than 100 years ago, chopping bowls had begun to be thought of as out-of-date. Frank Leslie's Popular Monthly, had this to say in 1887:
"There is the old fashioned and, I hope, now entirely obsolete, chopping-bowl and its odd-shaped knife. With bowl on lap and the chopping-knife making its regular strokes, now and then stopping to shovel whatever is being minced into the centre of the dish, for hours the patient woman would keep at work. The famous 'Patience on a monument' would be impatience and irritability compared with her at work upon a task more irksome and wearying than that of the woodchopper."
Dun's Review, November 1912, gives us a hint to the causes behind the chopping bowl's fall to relative obscurity:

"No one regrets the passing of the chopping-bowl, with its long and wearisome manipulation of its semicircular knives, since its place has been taken by the so-called chopping machines, which will do more and better work in five minutes than could be done with a bowl and knife in an hour. Many a 'left-over' that was formerly thrown away is now transformed into an attractive croquette or other tasty dish because of the ease with which it can be cut to any desired degree of fineness by one of these machines."
Ah, new technology!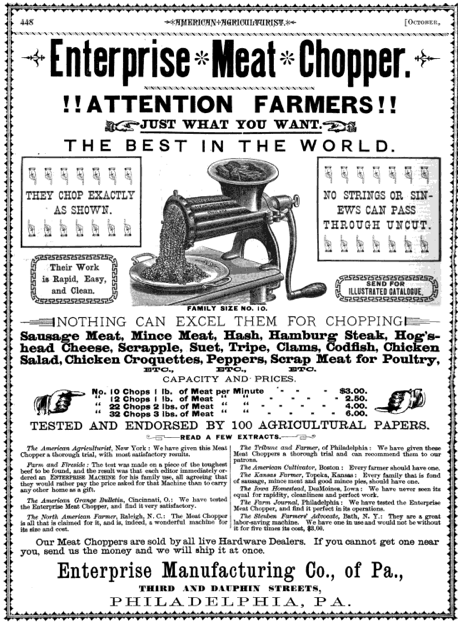 American Agriculturist, October 1884.
The meat chopper, easier and faster to use than the chopping bowl, was the food processor of the late nineteenth century. Of course, it was used for meat. But as the article I quoted in How Sally Did It (in 1920) mentioned, it could be an all-purpose tool:
"And I never saw anybody put the food chopper to so many different uses; instead of grating the lemons, and her fingers, too, she takes a sharp knife and pares off the rind, then runs it through the food chopper. Cheese is treated the same way, and she can prepare vegetables in a 'jiffy,' and they cook quicker, too, for the fine cutting. Once when we were late at starting supper and I didn't think there would be time to cook potatoes, she had them peeled and run through the food chopper while I was worrying what to have in place of them. They fried in a few minutes."
Good Housekeeping, ran this letter in March 1898:
"Editor of Good Housekeeping.
I have read with interest your recipes for sandwiches in the September number of Good Housekeeping. Will you allow me to suggest the use of the meat chopper or grinder instead of the chopping knife, in preparing the meat for sandwiches. I also use the meat chopper for meat for hash. The potatoes need to be chopped with the chopping knife, but the meat mixes better and is more satisfactory when ground. Corned beef of course is the best, but by the addition of a very little one put through the grinder with the meat, any other meat, or two or three kinds of meat make a very good hash. The flavor of onion must be very very slight for a breakfast hash. I also use the meat chopper for crumbing dried bread for croquettes, etc. I find the chopper an indispensable implement of kitchen furniture."
As with many other new technologies, there was a backlash. American Cookery published "The Art of the Chopping-Bowl" in October 1919:
"Old things give place to new. With the coming of the meat-chopper or, more properly, crusher, the chopping block and bowl have been discarded and one rarely hears of or even sees a chopping-bowl in the homes of today.

"…The poor way is the quick way. The good housewife will not sacrifice good food and health for speed, but will do it the better way. Hash is a fine dish, or should be, which the majority of people turn up their noses at because it is made from meat-gristle, cartilage and bone forced through the meat-crusher; this fines it in a certain way, but when the unseemly mixture is mixed with potato and heated up, it is anything but a palatable dish, because one is constantly biting into a piece of gristle or bone.

"…Every home should have at least two chopping-bowls. One for meats, nuts, etc., which should never be used for chopping onions, etc."
Nowdays, we don't really tend to use meat-choppers in most kitchens — and if we do, we call them meat grinders and just use them to make ground beef. But many of us do use food processors, and often use them for the same reasons cooks turned to the meat-chopper in the nineteenth century. Most of us also do a lot of cutting directly on a flat cutting board. I can see the advantage to a chopping bowl for a lot of things, though. Cutting up nuts, or other items that are likely to scatter. I may have to get one.
As for the meat-chopper, I don't have one of those because the only meat I eat is fish, so it never seemed useful. But I can see that it could also be handy occasionally for other things. Maybe I'll get one of those, too.
Post a Comment